No matter where you are in your fitness journey, a gym bag is a staple in a successful routine. You start to realize there are items that enhance your gym and workout experience and it's convenient to keep them all packed and readily available in one place.  I went to some of the best fitness pro's in town, a few of our MAC staff, to learn what enhances their fitness experience and what's essential in their gym bags.
Hands down, the most popular item was an MZ-3, MYZONE Belt.  The heart rate monitor that provides instant feedback on effort and maximizes each workout.  Which explains why each of these people have been consistent in their workout routine. (Check out more info on that here!)
Amongst the other popular items: Headphones, Water bottles and sweat towels.
Gym Bag Essentials….
GymBoss: interval timer, Flip belt, Honey sticks and rice cakes, chocolate milk, BCAAs, dry shampoo. Jane Jakobsen, Personal Trainer Director
Pre-workout and deodorant. Casey Pauli, Vice President of Operations
Lifting gloves, chuck taylors, gum, ibuprofen and inhaler. Jodi Hupe, Personal Trainer
Dre Beats and Amino Acids. Curtis Meier, Sales Director
Mobility bands, BCAA's and Bone Broth Protein. Joe Meader, Personal Trainer
Kindle, Flip Belt, Blender Bottle. Bailey Utterback, Membership Sales Director
Resistance Bands, Blender bottle, face wipes for afterwards. Sarah Chalhoub, Personal Trainer
Socks, Fanny pack, hair tie, toothbrush and paste. Chelsey Oberreuter, General Manager
An enhanced fitness experience can have everything to do with the essentials in your gym bag.  The more enjoyable and convenient your experience is, the more consistent you will be and you know what that means…..MORE RESULTS!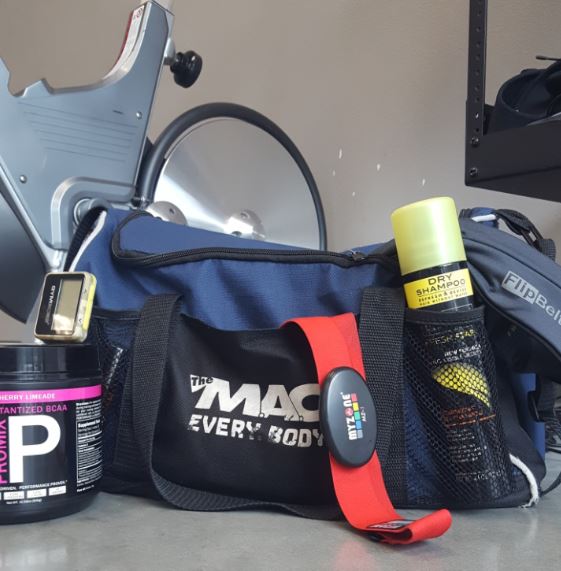 Written by Personal Trainer Director: Jane Jakobsen