While it hasn't felt much like Spring lately, the annual urge to purge is still very real. We've talked to members decimating dust bunnies, gutting garages and, most exciting to us, refining what is in their refrigerators.
For many reasons, Spring can be a great time of year to really shine a spotlight on nutrition and how we fuel our bodies. The long, cold winter (along with all of it's holiday events, and often "heavy" meals) is behind us and many of us are ready for a fresh start and some time outdoors. With the sunshine and warmer weather also come boatloads of seasonal favorites for veggies and fruit such as Rhubarb, Asparagus and berries of all types! It's never easy to eat healthy all of the time, but the sweet berries and even sweeter price points on seasonal produce definitely help.
Here at the MAC we celebrate Spring in our own unique way, and invite our members to join us, during our annual "Spring Clean Your Diet" 30 day challenge. Many of our members recently completed our annual "Spring Clean Your Diet" that ran through the month of April, and we're so excited about the results seen and lessons learned.
This challenge kicks off with an InBody test for all participants and includes nutrition tips, recipe ideas and a private support page on FaceBook (amongst other awesome offerings). We wrapped at the end of April with a final InBody and a drawing for some grocery gift cards so we can keep supporting those clean eating habits. And by the end, our participants had a LOT to be proud of over the 30 days.
While the ultimate goal of the challenge was to educate participants on the benefits of a healthy diet on your overall well being, the majority participants also saw changes to their body composition. Our average participant was aged 39 (though we had those in their early 20s, as well as in their 60s!), saw a 3.25lb overall weight loss, nearly a ½ pound of muscle gain, and body fat percentage loss of 1.34%.
While those were the averages, several participants lost between 6-10lb, gained over 1lb of muscle and lost 3% or more of body fat. With results like these, what's not to be proud of?
One participant, Leta Fett, who's daughter also joined her in the challenge, stated
---
"I lost 6.1lb and added 1.8lb of muscle. I'm proud I was mostly on track & kept to my goal of being in the gym 2x a week.
Naomi, being 12, had a tougher time with self control because her friends would tease her at lunch with candy & baked goods. However, she gained a respect for how tough it can be to eat healthy, especially on-the-go, and the planning it takes to stay on the good path.
It was a good experience for both of us."
---
Other participants, like Kathryn Tyner, appreciated the mental break they gave themselves from the scale.
---
"I am proud of the fact that I did without sugar and sweeteners for 30 days. I did not step in the scale during these 30 days and liked the freedom that gave me. I give too much credit to the scale for my wellbeing."
---
It's never easy to make a change, and often life tries to get in the way of our living. However this crew stayed dedicated and disciplined even with the Easter holiday that would otherwise be ripe with egg hunts, jelly beans and glazed ham. In the face of family gatherings, and what that can mean for someone trying to stay on track with their eating, this crew took to the social media page and offered each other their own tips and words of support and encouragement.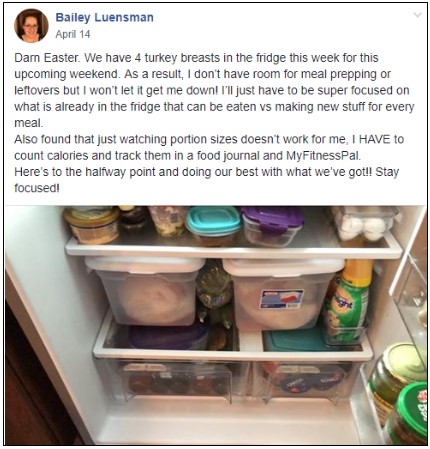 Can't wait for next year's challenge and feeling ready to kick-start your own clean eating? Why not start with breakfast tomorrow! Here is one of our favorite recipes shared during the challenge:
Power Up with power bowls!
1 whole egg
3 egg whites
3oz sweet potato
2 slices bacon
Cook and drain the bacon. Dice the sweet potatoes, and sautee. Finish by scrambling the egg and egg whites together, then topping with the sweet potato and bacon.
Here's to your health!